Frequently asked questions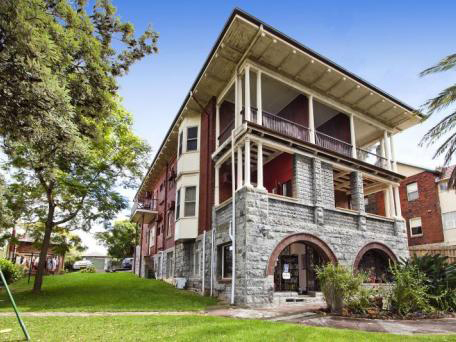 Please have a read through our FAQ to find out more about your stay at St Leonards Mansions.
How do I make a booking?
Drop us an email bookings@themansions.com.au or give us a call on +61 2 9439 6999 to book your room. To guarantee your reservation we would require your credit card details. Please read our cancellation policy in the "Rates" page.
Why is there no online booking system?
Many of our guests do not have specified leaving dates. For instance, families of hospital patients who are unsure of the date their loved ones are discharged, or business travellers whose leaving dates are determined by their company in short notice. Nonetheless, do not hesitate in making a booking/enquiry as we often have a vacancy for you.
If I wish to stay for a week and a half, how is the rate calculated?
For instance, if a guest wishes to stay in a single en-suite for 10 nights, the rate is calculated as $400 for the first seven nights and $160 for the remaining 3 nights.
Why are credit card details needed?
This is required to cover for no shows or cancellations with less than 48 hours of notice. Credit card details are required via phone or fax only, never via email. We are obliged by law to keep customer information confidential and secured.
What type of guests stay in your place?
We welcome all Australian and international guests, many from India, Singapore, China, New Zealand, USA and UK. Our lodge is a favourite for business travellers with working contracts, couples visiting nearby, hospital visitors and tourists looking to explore Sydney.
How do I get to St Leonards Mansions from the Airport?
You can either take a train or a taxi to reach us.
Do you provide meals for guests?
Sorry, no meals are provided for our guests. We do have kitchens which is available for you to use with kitchen utensils provided. Grocery shops are 5 minute walk away and there are also many take-away shops, restaurants and cafes nearby.
Do you have parking?
We have free off street parking available for our guests at the rear (Park Lane). Please let us know at the time of booking if you need parking.
What are your Office Hours; Check-In & Check-Out Times?
Office Hours are 7.00am - 7.00pm (Monday - Friday) and 8.00 am - 2.00 pm (Saturday - Sunday, public holidays). Please let us know if you are checking-in outside of these hours.
Check-In: 12:00 pm; Check-Out: 10.00am
Is there public transport nearby?
Yes, there are numerous trains and buses 5 minutes walk away! These can take you directly to the CBD, other business centres, shopping centres, hospitals and tourist attractions.
Do you have internet access?
Yes, we have WIFI available for guests.
Our plans include:
$10 for 750 mb per day
$30 for 3 GB per week
$45 for 8 GB per month

A public computer with free internet access is also available for our guests.
Only 20 minutes to CBD by public transport!

7 Park Road, St Leonards, NSW 2065. Phone: +61 2 9439 6999 - Email: bookings@themansions.com.au